Thank heavens for friends who pass on valuable information.  Thanks, Jane.
So, did you see the news story today about the woman in Germany who climbed into a polar bear enclosure at the zoo and jumped into their swimming moat--at feeding time no less? Guess what happened?   The polar bear bit her.  Imagine.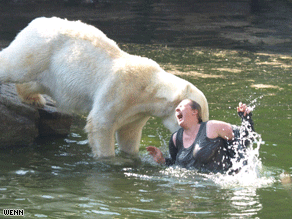 I'm only including this here to remind you that this is Not a Good Idea.  Just so you know.  You'll thank me some day.
Which reminds me of one of my favorite things--
The Darwin Awards
.  The polar bear adventure would be called a "Near Miss" under their criteria, since the Darwin Awards exist to honor those who improve the species by accidentally removing themselves from it.  It's one of my favorite things.    
Check it out.  You'll feel really good about yourself.